GRANTS AND SUBSIDIES
2023
If you are considering installing solar panels at home, now is the best time!

Currently, there are several economic aids that aim to promote renewable energies and make self-consumption a reality.
Find out what grants are available.
Find out about your grants
The Institute for Energy Diversification and Saving ( IDAE), with the ultimate goal of promoting energy efficiency and renewable energy actions and projects, has a financing and aid system for projects affecting the energy sector.
Subsidies for the installation of solar panels and storage in residences are regulated by Royal Decree 477/2021, which allows the autonomous communities to grant these subsidies in order to promote the deployment of renewable energies.




Budget:






660 million euros.




However, it could be extended if there is budget availability for the same purpose, and provided that the term has not expired.







Period of validity:






applications may be submitted until December 31, 2023.







Aid scheme:






the aids are granted through simple concurrence, i.e., they are studied/awarded in strict order of presentation until the funds are exhausted.



Recipients (for incentive program 4 and 5):
Individuals who do not perform any economic activity by which they offer goods and/or services in the market.
Individuals who carry out some economic activity by which they offer goods and/or services in the market.
Communities of owners on horizontal property.
Renewable energy communities and citizen energy communities, provided that they do not carry out any economic activity by which they will exploit goods and/or services in the market.




Amount of the aid:






the amount of the aid to be granted will be the sum of the Base Aid and the Additional Aid, which may correspond in each case.




For the incentive programs corresponding to the residential sector, the amount is summarized as follows:



Photovoltaic Installation Self-consumption: 300 – 600 €/*kWp
Incorporation of Self-consumption Storage: 140 – 490 €/kWh
Additional aid for demographic challenge: these subsidies are granted to homeowners living in municipalities with up to 5,000 inhabitants and in non-urban municipalities with up to 20,000 inhabitants, in which all of their singular population entities have up to 5,000 inhabitants. The additional amount to the subsidy is €50/*KwP.
Apart from the subsidy granted by IDAE, there is a list of municipalities that have approved a system of rebates in the Real Estate Tax (IBI) for those homes that incorporate a photovoltaic panel installation.
We share with you a interactive map of Catalonia by the National Association of Self-consumers The information on this bonus system is collected from all those municipalities with more than 1,000 inhabitants.



The IBI rebate does not affect the subsidy granted by IDAE, since it is not understood as a subsidy.





.



On the other hand, some municipalities have also approved a system of bonuses in the Tax on Constructions, Installations and Works (ICIO) for those constructions that incorporate an installation of photovoltaic panels.
This bonus can be as high as 95%. in favor of the constructions, installations or works to which a solar self-consumption installation is incorporated.
The ICIO Bonus does not affect the subsidy granted by IDAE, since it is not understood as a subsidy.

"They took care of absolutely everything themselves, including asking for help.
they give you for the placement of the plates..."
Personal income tax information
People who install solar panels in their homes will be able to take a series of tax deductions in the Personal Income Tax (IRPF), included in the Royal Decree 19/2021.
As a general rule, these deductions for installing photovoltaic self-consumption systems may be applied for in any dwelling, whether it is for residential or rental use.
The deductible amount can be 20%, 40% or 60% depending on the percentage of non-renewable primary energy that is reduced as long as a series of requirements are met, such as improving the energy rating of the home or reducing the consumption of non-renewable energy.
With ELTEX you will not have to worry about anything.
We take care of applying for all grants and subsidies.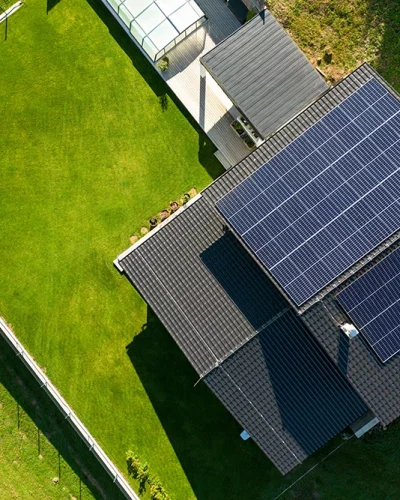 We inform you that your personal data will be incorporated into the processing systems of ELTEX SOLAR S.L, as Data Controller, in order to respond to your inquiry or request and sending commercial and/or promotional communications, where appropriate, based on your prior express consent. Your personal data will be kept for 3 years after the end of the contractual relationship or until the revocation of your consent, and will be blocked for the period of limitation of legal actions. At any time you can exercise your rights of access, rectification, deletion and revocation of consent, as well as other rights, by contacting our DPO at info@eltex.es, REF: "Data Protection". Additionally, if you believe that your personal data are being treated inappropriately, you can address your complaints to the Spanish Data Protection Agency (https://www.aepd.es/). For more information, please see our Privacy Policy.
Calculate your savings with solar panels
and receive youre €500 discount code
We inform you that your personal data will be incorporated into the processing systems of ELTEX SOLAR S.L, as Data Controller, in order to respond to your inquiry or request and sending commercial and/or promotional communications, where appropriate, based on your prior express consent. Your personal data will be kept for 3 years after the end of the contractual relationship or until the revocation of your consent, and will be blocked for the period of limitation of legal actions. At any time you can exercise your rights of access, rectification, deletion and revocation of consent, as well as other rights, by contacting our DPO at info@eltex.es, REF: "Data Protection". Additionally, if you believe that your personal data are being treated inappropriately, you can address your complaints to the Spanish Data Protection Agency (https://www.aepd.es/). For more information, please see our Privacy Policy.